Public Works Garbage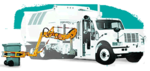 Automated Pick-Up
The Summer Village of Itaska Beach uses an automated garbage pick-up system. Each lot with a cabin will be supplied with one 240 L garbage bin. Residents are responsible for replacing lot or stolen carts ($100 cost). On the garbage schedule, Itaska Beach falls within the North Shore category. ALL garbage must be inside the can.  Any extra bags outside of the can will NOT be picked up. If you believe you need more than one garbage bin, you can rent a second bin for $18 dollars a month, payable annually.  
If your garbage can gets damaged (e.g. a broken wheel), please contact our office at (780) 312-0928, or email to info@itaska.ca.  It can take 2-3 weeks, as the contractor will coordinate a number of repairs at the same time. 
Be sure to adhere to the following guidelines:
a.

             
Carts must be:
                  

i.

        P
laced along the edge of the road way with wheels in the gutter
                  

ii.

        
Not overloaded so as to prevent the lid from closing
                   

iii.

      P
laced with a minimum of 4 feet clearance on all sides and above the cart from any obstacle including additional bags, parked vehicles, fences, other carts, etc and are placed so as to allow un-impeded access of the collection grabber directly from the side of the collection truck out to the cart
b.

             
Only waste contained within the respective automated 65 gallon cart will be collected.  Carts filled with inappropriate material will not be collected, such as hazardous waste, propane cylinders, gas, batteries, full aerosol cans and paint.
Large Item Garbage Collection
Large Item Collection
There will be one large item collection each summer where residents may put their garbage out at the end of the driveway (the same place you would place your garbage bin.)
Some examples of ACCEPTABLE items for collection include:
stoves • washer and dryers • mattress and box spring • furniture • sinks • toilets • barbecues (no tanks) • lawnmower (all fluids drained) • rain barrels • snowblower (all fluids drained) • lawn furniture • wheelbarrow
NOT ALLOWED The list of unacceptable material:
televisions • stereos • computers (monitors, towers, keyboards, speakers, mice) • desktop printer • car parts • snowmobiles • assembled swing sets • tires • propane tanks • fridges • freezers • air conditioners • items larger than 1.8 metres (six feet) in length • items weighing more than 200 lbs.
Extra Garbage
Extra garbage that does not fit in your garbage can must be disposed of in an acceptable dump facility. Many residents have a blue bag for recycling which they take back with them to the city. If you have garbage that you need to take to a dump:
WEST DRIED MEAT LAKE REGIONAL LANDFILL SITE
www.county.camrose.ab.ca
Location: SW 14-44-21-W4 call 780-877-2269 for hours of operation
(From HWY 21 turn east on HWY 609 about 1 mile)
LEDUC COUNTY REGIONAL LANDFILL
You must pay at time of dumping (cash or cheque)
SUNNYBROOK OR MISSION BEACH SOLID WASTE TRANSFER STATIONS 
In order to access the Sunny Brook Transfer Station, you must have an access card.  Cards will allow the holder a one-time access to the Sunnybrook Solid Waste Transfer Station or the Mission Beach Transfer Station only. The attendant at the station will collect the card as payment for the services offered at the transfer station.

The access cards may be purchased from the Summer Village Office at a cost of $20 per card.  Please note that you cannot purchase a card elsewhere.  To receive a card(s), submit a cheque to the "Summer Village of Itaska Beach" and mail it into the Summer Village office.  Card(s) will be mailed back to you.  
For more information about Leduc County Landfills and Transfer Stations, please visit their
website.
Sunnybrook Transfer Station
Location: Pt. NW 11-49-02 W5M
Directions: 1.25 miles north of Sunnybrook on RR 22
Hours of Operation:
Wednesday, Thursday, Saturday 9 a.m. to 5 p.m.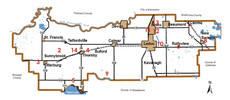 Snow Removal
Snow removal is done by a contractor after major snowfalls as necessary.  Please contact the office if the road needs to be plowed.
Residents are reminded snow from private driveways is not cleared by the Summer Village.  Snow from private driveways must be stored on your property.  Do not push the snow onto municipal property, including ditches.    
Snow ridges will occur at the driveway entrance when the Summer Village snow plough goes through.  Property owners will be required to clear their driveway (the approach) which may include utilizing personal snow removal equipment, seeking assistance from family, friends or neighbours; or contracting a private third-party company to perform the service.
Leaves
There will be two leaf pickups each year - in the spring and fall. This is to assist in getting yards cleaned up. The leaves must be placed in a clear bag, and placed at the end of your road.

Any material other than leaves, or not in a clear bag will not be picked up and will be your responsibility to dispose of.
Road Bans
Road bans are weight restrictions that reduce the maximum weight allowed on our roads. Seasonal road bans are applied each spring to protect road infrastructure. These seasonal bans are lifted in late May or early June, depending on weather conditions. 

~ April - early June,  there is a 50% road ban in Itaska Beach, as well as surrounding area.  The remainder of the year the road is at 75%.  

For road permits, please contact Roadata Services Ltd.
Fire Safety 
Is your home Fire Smart?